Our Story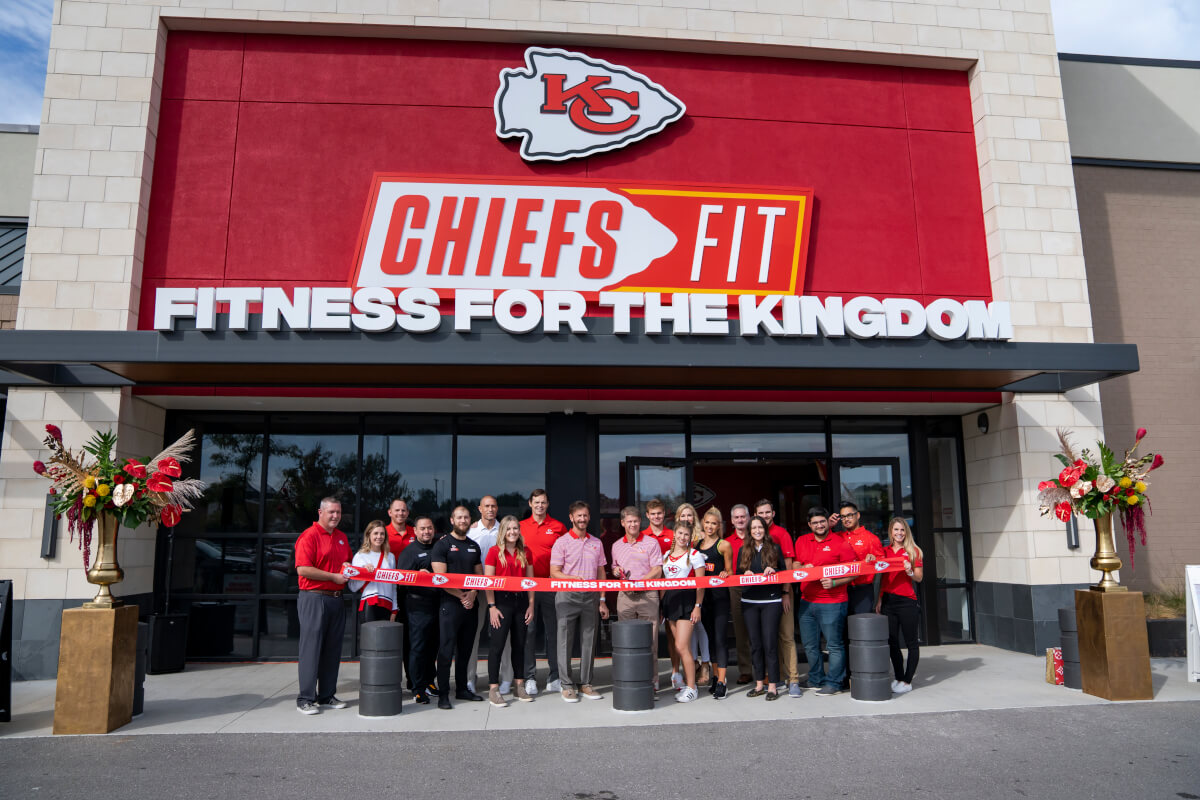 The Kansas City Chiefs launched a new fitness center concept, Chiefs Fit, which will be developed within the greater KC metro . The new Kansas City Chiefs-themed fitness center is a state-of-the-art health and wellness facility featuring the latest in fitness and recovery equipment where members can train like the pros. Designed for fitness enthusiasts of all levels – from elite athletes to weekend warriors and families – Chiefs Fit offers amenities for the entire community.
Chiefs fans and fitness enthusiasts in Chiefs Kingdom now have access to approximately 37,000 square feet of workout facilities, as well as workout programs from the team's strength and conditioning staff and nutritional insight from the organization's food service staff. The innovative fitness space includes a strength and conditioning area with new Chiefs-branded free weights, machines and cardio equipment, an impressive 110-foot indoor turf field, full-amenity locker rooms and a recovery facility that features cryotherapy treatment, hydromassage machines, NormaTech recovery systems, a sauna, and spray tan booths. Elite group fitness classes and personal training services are also offered at Chiefs Fit, and to stay on top of nutrition and apparel, the space includes a fuel station and Pro Shop that features Chiefs Fit and Chiefs branded gear.
The facility features the same health and safety protocols used at Arrowhead Stadium which are designed to keep members and guests safe. Chiefs Fit was built with sanitization in mind, including contactless water fillers and approved Air PHX HVAC ventilation, as well as continuous facility cleaning and sanitization best practices recommended by the Centers for Disease Control and Prevention (CDC). In addition, the facility complies with all state and local orders that govern the operation of gyms and fitness facilities. This is now the most modern, safe, and up-to-date facility in the greater KC area.
The community-wide health, wellness, and fitness project is a joint effort in partnership with M6 Football and its founder and chairman, Mark Mastrov, who is the founder and former chairman of 24 Hour Fitness, which he sold in 2014. M6 provides a unique wellness experience and true brand extension for professional sports teams. By working hand in glove with iconic brands like the Kansas City Chiefs, M6 creates state-of-the-art health and fitness centers where fans can interact with their favorite team in an authentic way. Members not only connect with the organization, but they also are inspired to "Train Like the Pros." Mastrov, along with the M6 Football team, has successfully launched multiple gyms in partnership with NFL franchises, including ventures with the San Francisco 49ers, the Dallas Cowboys, the Chicago Bears, the Cleveland Browns and the Houston Texans.
"We are very excited and proud to be able to partner with the Kansas City Chiefs to bring this amazing facility to life. Our goal is to enhance people's lives through health and fitness and keep them fit year round while being inspired by the Chiefs!," said Mastrov.
With Chiefs Fit, the Kansas City Chiefs have provided fans the opportunity to engage with the team 24/7. All members of the community now have access to a fitness facility unmatched in innovation, equipment, and offerings. Members of Chiefs Fit can connect to their favorite team in a unique and inspiring way.
"We're extremely excited to bring Chiefs Fit to the Kingdom," Chiefs President Mark Donovan said. "We have continued to focus on health and wellness, and not just for our players, coaches and staff. This focus has included looking for ways to promote health and wellness to our fans and in our community, and we think that having a state-of-the art fitness center with our brand, paired with the best staff, equipment and services, will provide a truly one-of-a-kind experience for workout enthusiasts of all walks of life throughout the Kansas City area."